HRH Duchess of Cornwall says "thank you" to nurses
21 May 2021 - Her Royal Highness The Duchess of Cornwall, Royal Patron of Roald Dahl's Marvellous Children's Charity, met NHS staff including King's nurse Giselle Padmore-Payne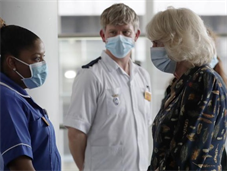 On International Nurses Day (12 May 2021), The Duchess of Cornwall met staff and extraordinary nurses working for Roald Dahl's Marvellous Children's Charity, including Giselle Padmore-Payne, Roald Dahl Lead Transition Clinical Nurse Specialist at King's College Hospital.
During a visit to Whittington Hospital, Her Royal Highness spoke to nurses and senior members of the Roald Dahl Charity team who have been working throughout the pandemic to support patients across the UK.
Giselle said: "I was one of the lucky few selected to meet The Duchess during her visit. We've had such a challenging year making sure our patients could continue to get the care they need, and this was a truly special moment.
"I feel privileged to be a part of the Roald Dahl Nurse team and network. I love what I am able to do for patients and their families as a Roald Dahl Specialist Nurse. You can achieve anything when you have a team that supports you, your aims, and ambitions a thousand times over."
Photo credit: the Press Association