Global Day of Recognition for MND/ALS
21 June 2021 - Today (21/06/21) is Global Day of Recognition for MND/ALS.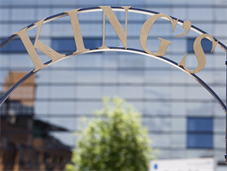 Motor Neurone Disease (MND) – also known as Amyotrophic Lateral Sclerosis (ALS) – is a life-limiting disease, causing progressive paralysis over a period of months to years. Currently there is no cure. MND has a lifetime risk of 1 in 300 but because of the poor outlook, only 5,000 adults in the UK are living with MND at any one time.
Theresa Chiwera is the Lead MND Research Nurse at King's College Hospital and has overseen the delivery of numerous international clinical trials into new therapies for the disease. The team's key aims are to understand the cause of MND and what affects its progression so that they can improve the quality of life and clinical care of people with the disease and, ultimately, find a cure.
To do this, they're conducting ground-breaking Phase 1 clinical trials into a potentially cutting-edge therapy for MND, as well holding Phase 2/3 interventional drug trials which researchers around the world hope will reduce or slow some of the symptoms of MND.
Theresa and her team are hugely grateful to all those living with MND and their families who give their time and effort to help clinical research, as without them research would be impossible. Of today, Theresa said:
"Global Day of Recognition for MND/ALS is an important moment to bring into the limelight a disease which has a great impact and changes lives forever. Let us fight to find a cure for MND together!" She went on to highlight the NIHR Wellcome King's Clinical Research Facility as "being essential in facilitating MND research as we have utilised their state-of-the-art research space which enabled us to carry out our research safely and comfortably for our patients with the great support from the CRF team!"
Reflecting on what MND research means to them, a participant in one of the trials said:
"Research is vital as it underpins evidence. I signed up to take part in MND research as anything that has the potential to alter the outcome of this disease is worth getting involved in. If anyone is thinking about taking part in a clinical trial, I would say do it!"
Theresa's research is partially funded by the My Name'5 Doddie foundation. Launched in 2017 by former rugby player and MND sufferer Doddie Weir, the charity raises money to fund research into MND while supporting those affected by the disease.