Epsom family announce the winner of King's Lifesaver of the Year award
13 November 2023 - Simon and Emily Ellis pay tribute to the King's College Hospital team who operated on their baby son before he was born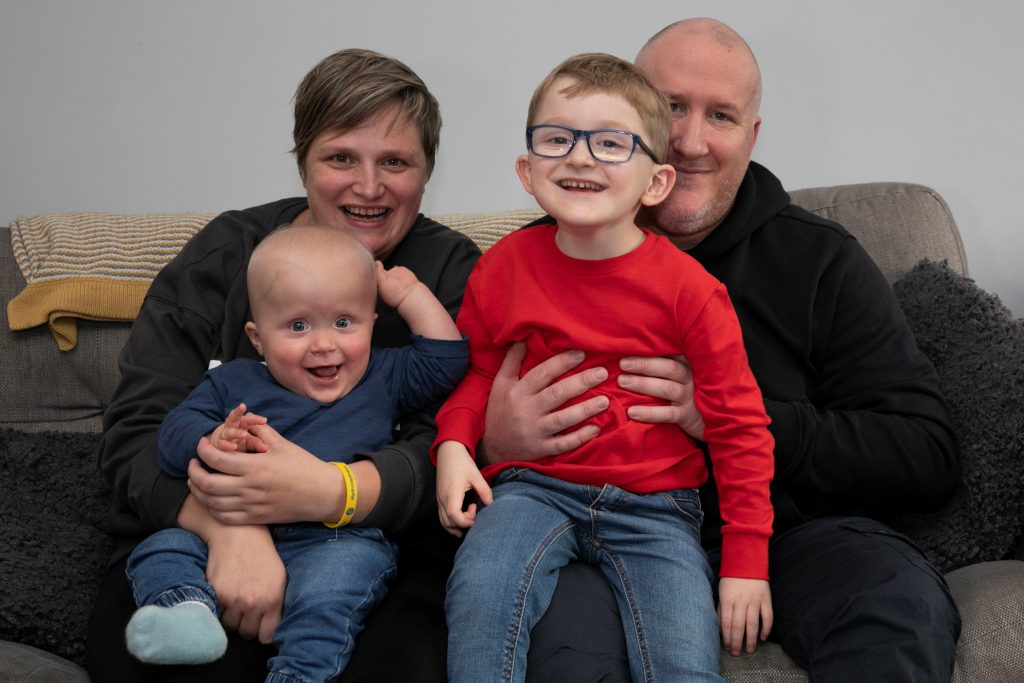 The winners of King's College Hospital NHS Foundation Trust's annual awards have been revealed in a ceremony in London on 2 November 2023. The 10 award winners included Dr Bassel Zebian and the Neurosurgery team, who were presented with the Trust's Lifesaver of the Year, following a public vote.
The Lifesaver of the Year award winner was announced by Simon and Emily Ellis, from Epsom, Surrey. Their youngest son, Austin, was diagnosed with spina bifida prior to birth, and underwent pioneering fetoscopic (keyhole) surgery at King's College Hospital, carried out by Bassel Zebian and the Neurosurgery team.
Announcing the award in a video, alongside their sons Harry and Austin, Simon Ellis said: "We can't thank Bassel Zebian and the team at King's enough for the care they've given us. Austin is now 11 months old and doing really well, and doing a lot of things we never thought were even possible."
Emily Ellis added: "As a family, we would like to be the first to say congratulations, and thank you for everything that you do."
Dr Bassel Zebian, Consultant neurosurgeon at King's College Hospital, said:
"I have the utmost gratitude to the parents of Austin Ellis for nominating our team for the Lifesaver of the Year award. They placed their faith in us to operate on Austin whilst he was still in the womb and I am most pleased to see the excellent outcome this has resulted in.
"It is a true privilege to be able to provide such a service and I am indebted to the whole team at King's who have ensured the success of the fetoscopic neurosurgical service – which is the only one of its kind in the UK – in the best interests of the patients we serve."
Clive Kay, Chief Executive at King's College Hospital NHS Foundation Trust said:

"Congratulations to all, and to the hundreds of colleagues who were put forward for an award; you truly are King's stars.
"It was great to see such a high standard of entries. The commitment and dedication shown by colleagues came through loud and clear, and I could not be prouder to be part of #TeamKings.
"We were delighted to welcome Double Olympic Champion Dame Kelly Holmes as our guest host for the evening. I would also like to express my gratitude to King's College Hospital Charity, without whose invaluable support this event would not be possible."
The King's Stars awards recognise and celebrate staff and teams at King's College Hospital who go the extra mile for patients and the wider community.