Emergency Department refurbishment at King's complete
07 November 2023 - The Majors area of the Emergency Department at King's College Hospital has been refurbished and modernised thanks to investment by the Trust and King's College Hospital Charity.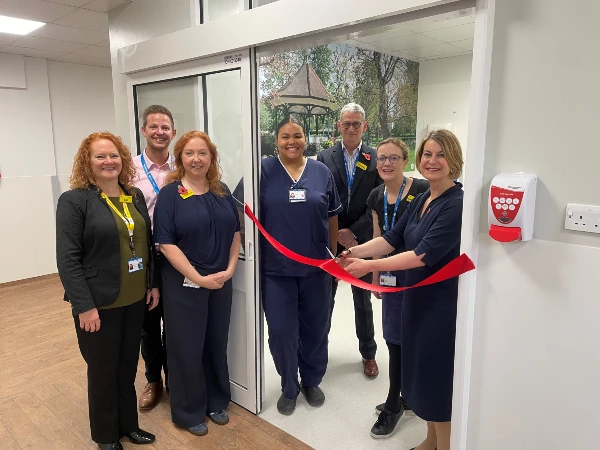 The Majors areas of the department – which treats patients attending the Emergency Department that require close observation and support – has been refurbished, and now has 17 beds, compared to 15 previously.
Majors has also been kitted out with bespoke artwork, new furniture and LED skylights, making it a more pleasant environment for patients and relatives, as well as for staff providing care.
The artwork features images from the local area – including Brixton and nearby Ruskin Park – and is designed to create a more relaxed and calm facility for patients, including those with mental health needs.
The new facility will start treating patients this week, but was officially opened on Friday last week by Helen Hayes, MP for Dulwich and West Norwood, as well as staff from the Trust, and representatives from King's College Hospital Charity:
Professor Clive Kay, Chief Executive, said:
"We know how busy our Emergency Department at King's is, so providing a modern, calm environment within which patients are treated, and where staff provide care, is so important. I am very grateful to King's College Hospital Charity for their investment in the facility, which is going to make a positive difference to the care our teams provide."
Helen Hayes MP said: "I am really glad to see this investment in the Emergency Department at King's College Hospital, which will make a huge difference for patients and their loved ones at what is often a very stressful time, as well as creating a much better working environment for the staff who work so hard to care for them."
Gail Scott-Spicer, Chief Executive of King's College Hospital Charity, which donated £52,000 towards the facility, added:
"As a charity, we are delighted to support this refurbishment, which has completely transformed the space of the Majors area of the Emergency Department. As well as increasing capacity in an incredibly busy area, the soothing artwork and bespoke furniture will make a huge difference to the wellbeing of patients who come through its doors."