Double Olympic Champion opens newly refurbished unit at King's
03 May 2023 - "Through my own experience of losing my mother to myeloma, I know how important it is that blood cancer patients receive the best possible care." – Dame Kelly Holmes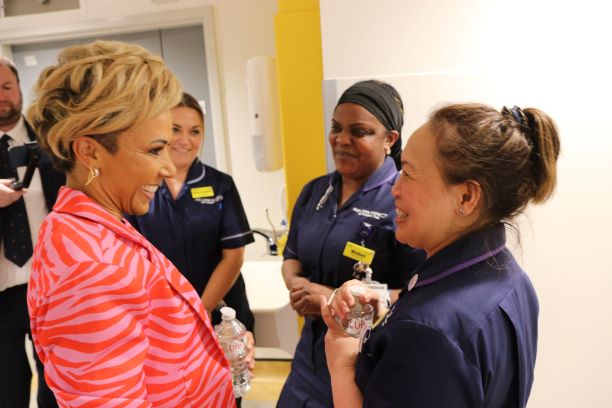 Double Olympic Champion, Col Dame Kelly Holmes MBE (mil), whose mother was treated at King's College Hospital for a form of blood cancer, opened a newly refurbished haematology unit at the hospital on Friday 28 April.
The renovation of the Derek Mitchell Unit, a purpose-built chemotherapy and bone marrow transplant unit with 14 beds, was completed last month. Dame Kelly's mother, Pam, was treated there when she was diagnosed with myeloma but sadly died in 2017.
Dame Kelly took a tour of the refurbished unit and was shown a number of enhancements including new wall beds, new wall art and enhanced bedhead panelling, and a modernised patient day room with floor to ceiling windows providing patients with a view of Ruskin Park.
The King's haematology patient advisory group suggested improvements to the Derek Mitchell Unit, including the importance of art work, particularly greenery and local nature. The Friends of Ruskin Park donated a series of photos of the park taken by one of their members, which are now on display along the corridors and day room in the new unit.
Other improvements made in response to patient feedback include the introduction of mood lighting in patients' rooms, and the installation of additional easy access sockets for patients' phones and devices.
The improvement works were funded by King's College Hospital NHS Foundation Trust (£3.5m); The Lions International Blood Research Appeal (LIBRA), the official charity for the Haematology Department at King's (£100,000); as well as generous donations from patients and families via the Friends of King's College Hospital (£50,000); and the King's College Hospital Charity (£40,000). The funds enabled improvements to the young adult room and the end-of-life room, as well as refurbishing a dated patient day room.
Col Dame Kelly Holmes MBE (mil), said, "As a LIBRA supporter and also through my own experience of losing my mother to myeloma, I know how important it is that blood cancer patients receive the best possible care during treatment and at the end of life.
"It's wonderful that the enhanced Derek Mitchell Unit will benefit many patients who are cared for here at King's College Hospital. Congratulations to the amazing team who have worked so hard to create this fantastic unit, and to LIBRA and the incredible supporters for their fundraising efforts."
Carole Cobain-Patel, Head of Nursing Haematology at King's, added: "We were delighted to have welcomed Dame Kelly to open our newly refurbished unit and show her round the improved facilities.
"Many of our patients are receiving high dose chemotherapy or bone marrow transplants. Our new wall beds will enable loved ones to stay and provide support, and calming wall art and enhanced bedhead panelling make the rooms less clinical and more comfortable. The modernised patient day room now provides a calm and healing environment where patients can spend time relaxing or meeting with loved ones.
"We are incredibly grateful to LIBRA, as well as generous donations from patients and their families made through the Friends of King's College Hospital and King's College Hospital Charity for helping to make this possible."