Dieticians Week at King's
09 June 2021 - To mark #DietitiansWeek, we met with Jess Pholenz-Saw, who told us about her role and why she became a dietitian.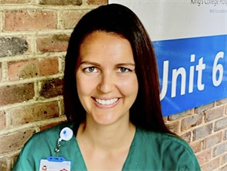 "I am a specialist critical care dietitian at King's College Hospital. The most important part of my role is advocating for nutrition in our critically ill patients. It's really important for each patient to have their own nutrition plan. During the Covid-19 surges, we had a team of seven dietitians helping to support our patients. I am also involved in education, research, and service improvement.
"I became a dietitian because I knew I always wanted to work in a health care profession. When a close family member fell ill, the importance and power of nutrition were highlighted to me. Together with my love for food, people nutrition, and dietetics it seemed like the perfect fit.
"Dietitians Week aims to increase the profile of our profession and celebrate all the great work dietitians do. Dietitians work in nearly all areas of health care and play a vital role in patient care.
"It's important to raise awareness of this week as the vital role dietitians play is often overlooked. Nutrition plays such an important part in life, while sick and when well, increasing the awareness of our profession will subsequently benefit our patients.
"The Nutrition and Dietetics Department at King's, service a wide range of specialist areas for example critical care, cystic fibrosis, gastroenterology, hepatology, hepatobilary, haematology, oncology, renal, neurology, stroke, bariatrics, diabetes and allergy. Our service covers inpatients, outpatients, adults, paediatrics and neonates.
"For someone who's considering a career in dietetics, I'd say it is a very diverse profession. Dietitians work in clinical, community, food service, research, sport and private settings. If you have a love for food and nutrition and working with people then it is definitely a career path to consider."