Cycle to Work Day
04 August 2021 - Today is Cycle to Work Day, the UK's leading one-day commuting event to celebrate everyday cycling.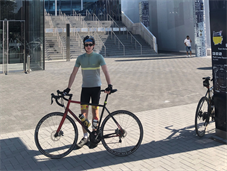 At King's, many of our staff cycle into work across our sites. We spoke to some of our cyclists who explained why they decided to get on their bike.
Matt Cooper, Communications Team: "I cycle a long way to work each day from Enfield (North London) down to King's College Hospital. It's about 18 miles each way and I try and cycle through all weather (rain, snow and wind). Last year, I cycled close to 5,000 miles and am hoping to break that record this year. People say I'm mad but I find it's a great way for preparing me in the morning for work, reflecting on the day on my way home, and keeping fit (I graze throughout the day constantly!).
"It's also great to help the local environment at King's. By cycling, I'm helping reduce the air pollution and traffic in the borough, and keep the air clean for our residents and patients.
"I'd recommend cycling to anyone, it's a fantastic way of seeing the great outdoors and I quite often stop on my commute to take pictures of London and sunrises/sunsets."
Peter, Associate Chief Pharmacist: "I cycle to work for so many reasons: it is good for my health, it's better for the environment than alternatives; it's door-to-door transport; it's cheaper than public or private transport – I save £25 per week on public transport purely through cycling to work; my bike leaves when I am ready; cycling allows me to interact with my local community; and it's fun!"
Claire Melody, Assistant Facilities Manager: "I cycle to work because it is much quicker than using public transport or driving. It's a free exercise that doesn't use up any of my spare time and it's great for clearing my mind after work. I'd thoroughly recommend it."
Dr Susanne Reichenbach, Senior Specialty Doctor: "I have exclusively cycled to work for the past seven years or so, and cannot understand anymore how I endured public transport beforehand. The benefits for me are:
Julie Lowe, Site Chief Executive Denmark Hill: "I cycle to work because it's by far the quickest (and cheapest) way to get here. I sold my car three years ago and we are a car free household cycling most places, using public transport for longer journeys and a car club on the odd occasions when driving is really more convenient. As well as a regular bike I have a tandem to make journeys with my 10-year-old and cycling as a family is a way to make even the most routine errands fun. There are lots of cycle routes in London now so it's easy to get started away from busy roads and definitely worth a try!"
Lorcan Woods, Chief Financial Officer: "I am an all-year-round cycle to work guy coming in from Reigate. I normally take my bike on the train to East Croydon and cycle to King's College Hospital but also occasionally to PRUH, which is eight miles. These days I am often using my Raleigh e-bike, but pre-pandemic loved my red Brompton for flying around south-east London to meetings. In the morning I like to drink my coffee on the bike but the evening ride is for digesting the events of the day and relaxing."