CogStack wins an Artificial Intelligence in Health and Care
04 June 2021 - Cogstack is an information retrieval, extraction and natural language processing platform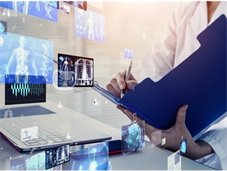 Cogstack is an information retrieval, extraction and natural language processing platform developed by researchers at the NIHR Maudsley BRC and King's College Hospital NHS Foundation Trust in partnership with the University College London Hospitals NHS Foundation Trust BRC. This innovative technology uses artificial intelligence to reveal important data locked in patient's health records to support clinical decision making and healthcare research.
CogStack has been successful in the latest round of the Artificial Intelligence in Health and Care Award for their innovative use of Natural Language Processing (NLP) to transform and improve research, planning and care.
The Artificial Intelligence in Health and Care Award is one of the NHS AI Lab programmes, led by NHSX. The competitive award scheme is run by the Accelerated Access Collaborative (AAC) in partnership with the National Institute for Health Research (NIHR).
Using Natural Language Processing to unlock health records
Electronic health record systems are important for both patient care and for research into improving healthcare. However, records can often be difficult to access and contain incomplete and unstructured data such as narrative text.
Narrative text is challenging to analyse, and the process of assigning standardised codes to records based on particular words, conditions or treatments, also known as "Clinical Coding" is normally performed manually by NHS staff. Clinical coding is a vital part of nearly all delivery of care, planning and service improvement for healthcare but is time-consuming, expensive and carries a risk of mistakes.
With the government funding received from the AI Award, this CogStack project will use a type of Artificial Intelligence called natural language processing to read clinical language in the NHS and assess the magnitude of efficiency savings and improved performance if clinical coding were reduced by this technology.
This work will build on the CogStack technology to establish a more efficient way to read and code records in collaboration with five NHS Trusts: Kings College Hospital, South London & Maudsley Hospital, Guys & St Thomas Hospital, University Hospital Birmingham and University College London Hospitals.
Professor Richard Dobson, Group Lead for CogStack and Head of the Department of Biostatistics & Health Informatics at NIHR Maudsley BRC, said: "When you visit your doctor or attend hospital a lot of information is collected about you on computers including your symptoms, tests, investigations, diagnosis, and treatments. Across the NHS this represents a huge amount of information that could be used to help us learn how to tailor treatments more accurately for individual patients and to offer them better and safer healthcare. The challenge we face is that most of the information held within these records is in written form which is difficult to use and learn from.
"We have developed the CogStack AI tools to read and understand this information and as part of this project will scale this capability across the NHS."
Dr James Teo, Clinical Lead for CogStack and Clinical Director of Data Science and Consultant Neurologist at King's College Hospital NHS Foundation Trust and King's Health Partners, said: "Doctors' handwriting may be deemed illegible – but to a computer, their typing isn't much better! A lot of the information a patient tells their doctor is currently stored as typed text, which is inaccessible to other healthcare professionals. Patients therefore end up repeating the same story to different doctors which can be frustrating and time-consuming for everyone concerned.
"We, the Cogstack team, are building Artificial Intelligence which will read and summarise doctors' notes so that they are easily understood by those that require them. In turn, this will reduce administrative burden for the NHS and provide richer, standardised patient-centred data summaries."
Patient involvement
Patients and the public are central to this project and informed its design. A coordinated, cross-site PPIE group will provide input to the CogStack learnings, building a patient involvement toolkit, ensuring public members are equipped to review NLP projects, and can embed patient priorities into the future use of this tool.
Find out more about CogStack through this video on YouTube.