Bromley mum gives up her time to support PRUH patients
08 July 2021 - Anika Broadway, 26, is determined to give something back to the hospital where she had her twins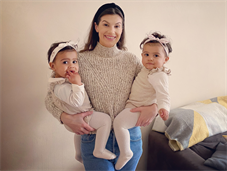 Bromley resident and single mother of twins, Anika Broadway, is giving up her spare time to volunteer at the Princess Royal University Hospital after her twins, now 16 months old, were born at the hospital. Anika explained: "My little ones were born in February last year and we needed a lot of care and support. The whole team were incredible, I can't speak highly enough of them, and we couldn't have had better care.
"I didn't realise you could volunteer in a hospital, but during our hospital stay, I could see the difference they made to patients and I knew I wanted to be part of that and give something back."
With her twins now 16 months old, Anika has become a PRUH volunteer and is currently supporting older patients recovering at the PRUH. She said: "It's a juggling act, especially as I work part time at Bromley Council. But I love being able to brighten up someone's day, or make a nurse's job a little bit easier. I know from my own experience how important good care is, and it's a privilege to be part of a hospital team that goes above and beyond to look after every single patient.
"I've been inspired to look at a career in healthcare, so hopefully this is my first step on the road to making a difference."