Baby transferred to King's by air in race against time
07 April 2021 - Family thank hospital and emergency services for extraordinary effort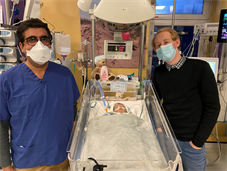 A Norfolk family has praised hospital staff and emergency services for pulling out all the stops to transfer their critically ill new-born son to London after it became clear King's College Hospital was the only centre that could cater for his needs.
Oakley Miles-Slade was born at Norfolk and Norwich Hospital at the end of January but within days of his birth he became acutely unwell and doctors discovered he had a liver abnormality that was causing a number of life-threatening conditions, including his heart to fail.
The baby needed urgent specialist intensive care from a hospital that could treat his liver abnormality and stabilise his condition. Medics contacted the Children's Acute Transport Service, which transfers critically unwell children for specialist care, who called upon King's College Hospital for assistance.
"Our Paediatric Liver Centre is a national hub providing a highly specialised service to children with liver problems," says Dr Akash Deep, Clinical Lead for Paediatric Intensive Care at King's, who took the phone call for help. "We are the largest service of its type in the world so we knew we had the expertise to care for baby Oakley. He had a benign diffuse liver tumour (hemangioendothelioma), which required coil embolisation of blood vessels as the excess blood supply through the arteriovenous malformation (AVM), was causing heart failure and acute kidney injury," he said.
The helicopter that would have transferred Oakley was temporarily out of service so the Norfolk Coastguard was contacted to see if whether their aircraft could be used.
"We have carried out practice landings with the coastguard so we knew the helipad at King's could accommodate the aircraft," says Mr Rob Bentley, Clinical Director of the South East London, Kent and Medway Trauma Network and Consultant Surgeon at King's College Hospital. "King's had the perfect mix of clinical expertise and the physical infrastructure to enable the transfer to take place," he added.
Mr Bentley was one of the driving forces behind the helipad at King's and he played an integral part in securing night landings at the Major Trauma Centre – the only 24/7 hospital helipad in London.
At just five days, Oakley was transferred to King's after dark for life saving treatment. The 45-minute flight, which would have taken around four hours by road, arrived at King's and was met by the Neonatal Intensive Care Team.
As Oakley was being seen by specialists his parents were making their way to King's. His father, Lewis Slade, said, "It has been very difficult to see our new baby so unwell but you just have to trust in the professionals. It's amazing how they all worked together to get Oakley the care he needed.
"Since being treated at King's, Oakley's kidney function has returned to normal, meaning he has not required dialysis, and he has been brought off the ventilator and is now breathing for himself. We know it will be a while before we can take him home but we'd like to thank everyone involved in helping our son," he said.
Mr Rob Bentley added, "This is a great example of the health service working with partners across the emergency services to give a patient the very best chance of survival."
Dr Thomas Bycroft, Consultant in Paediatric Intensive Care at Imperial College Healthcare NHS Trust and Children's Acute Transport Service (CATS) at GOSH said: "I was incredibly proud to be part of the Children's Acute Transport Service (CATS) on call that night, which helped get Oakley the urgent care he needed from the team at King's. Bringing the skills of specialised nurses and intensive care doctors on the road – by land or air – and to the bedside of critically ill children can make all the difference in situations like this. Each year the team enables the safe transfer of around 1200 sick babies and children from 50 hospitals in the North Thames and East Anglia regions to specialist hospitals in London and Cambridge. The specialist advice we can provide during the transfer also goes a long way to ensure a smooth transition into a paediatric intensive care setting, which gives children like Oakley the best chance of survival."