Baby Loss Awareness Week
09 October 2021 - At King's, we are dedicated to looking after all bereaved families with empathy and kindness during one of the most difficult times in their lives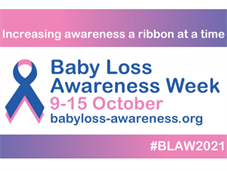 Today (9 October 2021), is the start of Baby Loss Awareness Week. It's a time to support anyone touched by pregnancy and baby loss, and give them an opportunity to share their experiences so they know they are not alone.
Baby loss can affect families from all walks of life and Baby Loss Awareness Week recognises this. At King's, we are dedicated to looking after all bereaved families, whatever their journey or personal circumstance, with empathy and kindness during one of the most difficult times in their lives.
Some also find comfort in being supported by their faith community while others will remember alone in a way unique to them. There is no right or wrong way to remember a baby and remembrance can evolve over time.
It is important for many families find a way to remember their baby in a way that suits them. At King's, we have annual remembrance services to commemorate the lives of all babies that have died while with us. There are also local support organisations, such as South East London Sands and the London Branch of the Miscarriage Association at Guy's Hospital.
This year King's, there will be awareness raising activities taking place across our hospitals and we will be taking part in the annual Wave of Light on Friday 15 October from 7pm to 8pm.
If you are a King's patients affected by baby loss and would like to know how to access further support and advice, please get in touch by emailing [email protected].
You can also donate to our dedicated baby loss bereavement fund and all donations are gratefully received King's Maternity Bereavement Fund – JustGiving.