A day in the life of… Michael Dodkin
30 September 2021 - We spent half a day following one of our Brilliant People at King's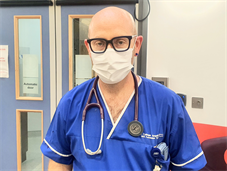 Michael says he has always been interested in caring for patients with cardiac conditions. He joined King's 2008 as a coronary care unit ward manager and in 2011, Michael was involved in developing the Acute Coronary Syndrome Nurse Service. This provides advice, guidance to patients across King's who require a medical assessment for cardiac symptoms, including chest pain.
Today, Michael is helping patients who require cardiology assessment and care.
9:30 Michael starts his day by discussing with a cardiology consultant the management of a patient who is suffering from cardiac chest pain and who may require a diagnostic coronary angiogram.
For information on angiograms visit NHS Angiogram website.
9:39 Michael visits the Cath Lab and meets Dr Timmy Williams and Dr Nilesh Pareek, Interventional Cardiologists, to find out about a different patient who's in recovery. They discuss next steps after looking at the patient's coronary angiography images.
9:47 After meeting with nurses to discuss patients for cardiac intervention, Michael meets Mr Ashford, a patient on the ward, to talk about the next stage in his care plan after he experienced chest pain. Most chest pain is not a sign of anything serious, but it's worth seeking medical advice if you're concerned, visit the NHS website for chest pain.
9:53 Michael is on the go again whilst also checking referrals for the day! The next stop is the Rapid Access Chest Pain Clinic, where outpatients experiencing chest pain are assessed and they are checked for heart conditions.
10:10 Michael is speaking to a patient's family to explain the care the patient will receive today. Every day our Brilliant People make sure patients receive excellent care, and their loved ones are kept informed.
10:15 We met Amy, Cardiographer at King's College Hospital, she said: "My role is to perform ECG and fit monitors. I enjoy getting to meet so many patients and speaking with them. You never know when your time and attention might brighten someone else's day."
10:19 Michael referred this patient to the outpatient clinic for follow-up. He says: "Not all chest pain is heart-related. ECGs require understanding of the individual, such as gender, ethnicity and past medical history."
10:30 Michael heads up to one of the Medical Assessment wards where he prints a handover of the patents listed for the ward, prior to commencing a patient review. He reviews his next patient's angiogram report to see if he can now go home.
10:33 Visiting the next patient, Michael uses King's language line to help find a translator when visiting the patient.
10:48 Now heading down to the Emergency Department (ED) to see a patient. Michael holds a bleep so he's always available around the hospital where he might be needed.
10:50 Michael meets a senior sister in ED and Dr Tanveer to assess a patient who came into the Emergency Department with chest pain. Before meeting the patient, Michael familiarises himself with the echocardiogram, also known as "echo"- a scan used to look at the heart structures.
11:10 We met Dr Tanveer, Junior Registrar, who said: "Heart health awareness and swift clinical decisions in emergencies can avoid fatal cardiac consequences."
11:30 After assessing the patient in ED, Michael is on the move again – checking where his next patient is.