Prof Mark Monaghan
Consultant Clinical Scientist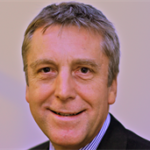 Year Qualified

1994

Qualifications

MSc, PhD

Specialty

Cardiology
Special Interests
3D, stress, transoesophageal and contrast echocardiography
Biography
Professor Monaghan is a Consultant Clinical Scientist & Director of non-invasive cardiology with special interest in applications of 3D echocardiography to the assessment of left ventricular function. He was appointed as Head of Echocardiography in 1990.
He trained at the University of Westminster, the University of London (King's College) and has led the Echocardiography research at King's for over 20 years.
Professor Monaghan is the Author/Editor of 3 books on echocardiography and senior or first author on many peer reviewed echocardiography papers. He is also an organiser and speaker at multiple national and international cardiology and echocardiography conferences.
Related services