Dr Sue Leech
Consultant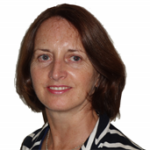 Year Qualified

1988

Qualifications

MA(Hons), MSc, MB BChir, DCH, FRCPCH

Specialty

Paediatric allergy
Special Interests
Allergen component testing
Complex food allergy
Desensitisation immunotherapy
Urticaria
Biography
Dr Leech trained at Cambridge and completed her paediatric training in Southampton and at King's College Hospital. She was a Lecturer in Paediatrics in the Department of Paediatric Gastroenterology at Oxford University before returning as Clinical Lecturer in Child Health at King's College London in 1996. She was appointed as Consultant in Paediatric Allergy at King's College Hospital in 2001.
Dr Leech is Clinical Lead for the Paediatric Allergy service. She chaired the Paediatric Group of the British Society for Allergy and Clinical Immunology from 2010 – 2015 and is a member of the Standards of Care Committee. She is the UK delegate to the European Training Committee for Paediatric Allergy.
She has considerable experience in all aspects of paediatric allergy.
Related services
Research
Leech S, Grattan C, Lloyd K, Deacock S, Williams L, Langford A, Warner J, Science and Research Department, Royal College of Paediatrics and Child Health (2011)

'The RCPCH care pathway for children with urticaria, angio-oedema or mastocytosis: an evidence and consensus based national approach', Archives of disease in childhood,

96 Suppl 2,():i34-7

Clark A, Lloyd K, Sheikh A, Alfaham M, East M, Ewan P, Jewkes F, King R, Leech S, Maconochie I, Sinnott L, Sohi D, Tomlin S, Warner J, Science and Research Department, Royal College of Paediatrics and Child Health (2011)

'The RCPCH care pathway for children at risk of anaphylaxis: an evidence and consensus based national approach to caring for children with life-threatening allergies', Archives of disease in childhood,

96 Suppl 2,():i6-9

Walker SM, Durham SR, Till SJ, Roberts G, Corrigan CJ, Leech SC, Krishna MT, Rajakulasingham RK, Williams A, Chantrell J, Dixon L, Frew AJ, Nasser SM, British Society for Allergy and Clinical Immunology (2011)

'Immunotherapy for allergic rhinitis', Clinical and experimental allergy : journal of the British Society for Allergy and Clinical Immunology,

41,(9):1177-200

Krishna MT, Ewan PW, Diwakar L, Durham SR, Frew AJ, Leech SC, Nasser SM, British Society for Allergy and Clinical Immunology (2011)

'Diagnosis and management of hymenoptera venom allergy: British Society for Allergy and Clinical Immunology (BSACI) guidelines', Clinical and experimental allergy : journal of the British Society for Allergy and Clinical Immunology,

41,(9):1201-20

Clark AT, Skypala I, Leech SC, Ewan PW, Dugué P, Brathwaite N, Huber PA, Nasser SM, British society for Allergy and Clinical Immunology (2010)

'British Society for Allergy and Clinical Immunology guidelines for the management of egg allergy', Clinical and experimental allergy : journal of the British Society for Allergy and Clinical Immunology,

40,(8):1116-29

Thomas P, Perkin MR, Rayner N, Cox H, Fox AT, Leech S, Lack G, du Toit G (2008)

'The investigation of chronic urticaria in childhood: which investigations are being performed and which are recommended?', Clinical and experimental allergy : journal of the British Society for Allergy and Clinical Immunology,

38,(6):1061-2

Scadding GK, Durham SR, Mirakian R, Jones NS, Leech SC, Farooque S, Ryan D, Walker SM, Clark AT, Dixon TA, Jolles SR, Siddique N, Cullinan P, Howarth PH, Nasser SM, British Society for Allergy and Clinical Immunology (2008)

'BSACI guidelines for the management of allergic and non-allergic rhinitis', Clinical and experimental allergy : journal of the British Society for Allergy and Clinical Immunology,

38,(1):19-42

Powell RJ, Du Toit GL, Siddique N, Leech SC, Dixon TA, Clark AT, Mirakian R, Walker SM, Huber PA, Nasser SM, British Society for Allergy and Clinical Immunology (BSACI) (2007)

'BSACI guidelines for the management of chronic urticaria and angio-oedema', Clinical and experimental allergy : journal of the British Society for Allergy and Clinical Immunology,

37,(5):631-50

Mullen J, Leech S, O'Shea S, Chrystie IL, Du Mont G, Ball C, Sharland M, Cottam F, Zuckerman M, Rice P, Easterbrook P (2002)

'Antiretroviral drug resistance among HIV-1 infected children failing treatment', Journal of medical virology,

68,(3):299-304

Razavi RS, Baker A, Qureshi SA, Rosenthal E, Marsh MJ, Leech SC, Rela M, Mieli-Vergani G (2001)

'Hemodynamic response to continuous infusion of dobutamine in Alagille's syndrome', Transplantation,

72,(5):823-8